In a world where people can find anything they want with the click of a button, it's important to make sure your art is easy to find—and that it looks great when they find it. With so much competition out there, you might be wondering how you can make your work stand out. Here are a few tips to help you get started.
Start by putting together a strong portfolio
As a digital artist, one of the best ways to showcase your skills and stand out from the competition is to create a strong portfolio. When putting together your portfolio, there are a few things to remember.
First, make sure to only include your best work. Quality is more important than quantity, so it's better to have a smaller number of strong pieces than a large number of weaker ones. Second, consider what kind of work you want to be known for. Your portfolio should focus on the type of art that you want to be hired to create. Finally, be sure to update your portfolio regularly. As your skills improve and you take on new challenges, you'll want to reflect those changes in your portfolio.
By following these tips, you can put together a portfolio that will help you stand out in the field of digital art.
Use social media to your advantage
Social media can be a powerful tool for digital artists. You can reach a broad audience of potential fans and supporters by sharing your work on platforms like Instagram, Twitter, and Facebook. In today's competitive marketplace, it's essential to stand out from the crowd, and social media can help you do that.
By sharing your unique vision with the world, you can build a following of people who appreciate your work. And as your fanbase grows, so will your opportunities to exhibit your work and sell your prints. So if you're serious about making a career in digital art, make sure to use social media to your advantage.
Create a website
Besides social media platforms, you can also use the internet to create a website for showcasing your art. This allows you to share your work with a broader audience and build a user-friendly portfolio that potential clients can easily browse.
There are a few things to keep in mind when creating a website for your digital art. First, make sure to choose an attractive and easy-to-use platform. Many website builders offer simple templates and drag-and-drop functionality, so you don't need to be a tech expert to get started. Second, consider the overall look and feel of your site. Choose a color scheme and layout complimenting your art style and making it easy for visitors to navigate.
Lastly, don't forget to make your site SEO-friendly. This can be a complicated task, so it's best if you employ the help of a professional SEO agency. They can help you optimize your website for search engines, so potential clients can easily find your work online. They can also help you create quality content that will keep people coming back to your site.
With a little effort, you can create a digital art website to help you stand out from the crowd.
Get involved in the community
One of the best ways to differentiate yourself in the field of digital art is to get involved in your community. There are many ways to do this, but one of the most effective is to start a podcast or blog about your work. Not only will this help you promote your work to a broader audience, but it will also allow you to communicate directly with other artists and designers.
Additionally, participating in online forums and attending conferences and meetups are great ways to network with other professionals in your field. By getting involved in your community, you'll not only be able to showcase your work to a wider audience, but you'll also be able to develop relationships with other artists that can help you further your career.
Stay true to yourself and don't give up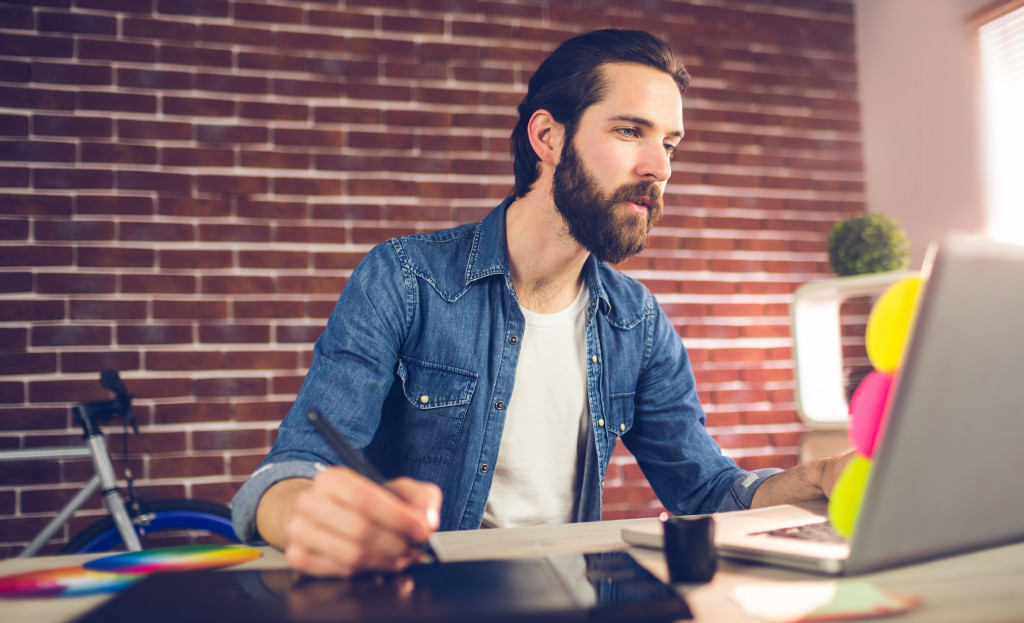 There's no denying that the world of digital art is incredibly competitive. But if you want to stand out in this field, the best thing you can do is stay true to yourself and never give up. When you're creating art, it's essential to tap into your own unique style and perspective.
There will always be other artists who are more successful or have more followers, but that doesn't mean you can't find your niche and build a devoted following. And even when times are tough and you feel like giving up, remember that success comes to those who persevere. So stay focused on your goals, keep creating art that's true to you, and don't give up no matter what. You can make a name for yourself in the digital art world with hard work and dedication.
There's no magic formula for becoming a successful artist, but there are certain things you can do to increase your chances of success. Start by building a solid portfolio, use the internet to your advantage, get involved in the community, stay true and never give up. By following these tips, you'll be well on your way to making a name for yourself in the art world and beyond.