Watches are status symbols. More than just a tool to tell time, these pieces are often worn by sophisticated people to show off their personality and style. While there are more affordable options in the market, many still one day dream of wearing a luxury watch on their wrist. Celebrities, politicians, entrepreneurs, and other prominent figures in the society are often seen sporting luxury watches from some of the most prestigious brands all over the world.
But, with the advent of smartphones and smartwatches, why do people continue to spend a fortune on luxury watches? Here are some reasons that set luxury watches apart.
The Design and Movement
When many people think of luxury watches, they immediately associate them with their intricate details and exquisite designs. These may be the first things you notice when you look at a watch, but what really sets it apart is the design of its movement.
The watch's movement refers to the complex machinery that makes up the timepiece itself. This includes the cogs and gears that make up the watch's inner workings. The design of these parts have to be made with precise measurements along with using only the best materials so it can work perfectly over time.
This is why most luxury watches are handmade or carefully assembled by an expert jeweler. Each part is checked multiple times before being put together to make sure it's perfect.
Materials Used
The materials used in making a luxury watch also contribute to its high price tag. For example, most luxury watches come with a scratch-resistant sapphire glass that protects the dial and other parts from damage and wear and tear.
They're made with surgical grade steel or platinum for the metal cases. If they have leather straps, they're usually made with crocodile skin or alligator skin for added durability and quality.
When it comes to the dial, some brands like Rolex use mother of pearl that is carefully cut into tiny pieces for decoration. Others get their parts from natural materials like wood.
If you love details, you'll appreciate the craftsmanship that goes into making luxury watches.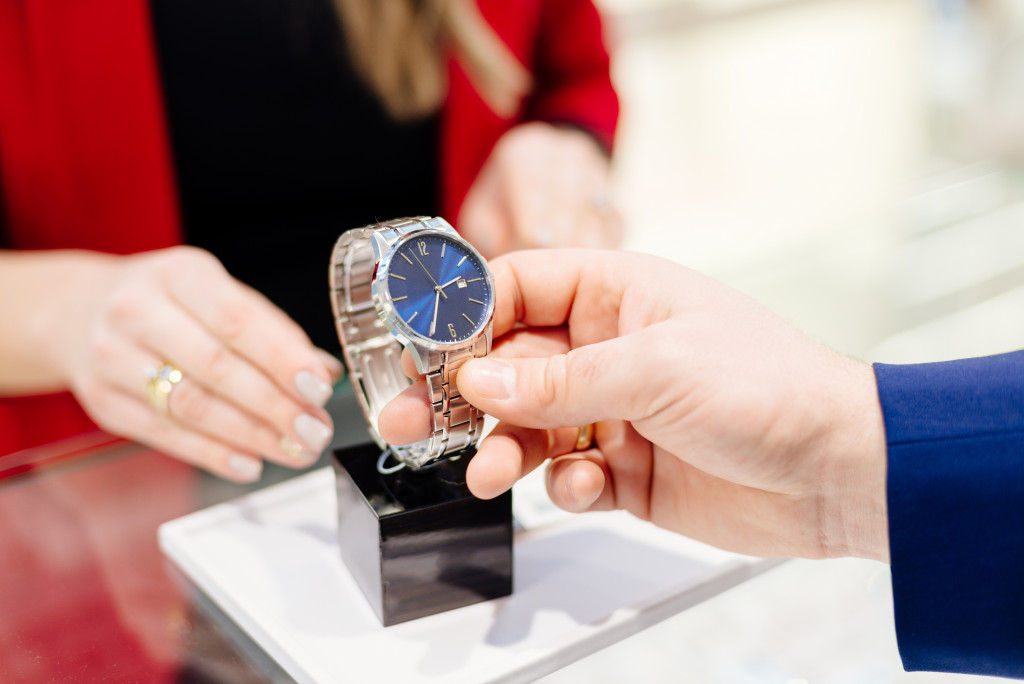 The Brand
There's definitely something to be said about wearing a luxury watch simply because of its brand name. Part of the reason why luxury watches are, well, expensive is because of the brand and the implications that come with it.
Most luxury watches come from prominent watch brands that have been around for decades or even centuries. Names like Rolex, Omega, Panerai, Seiko, and Breitling ring a bell to most watch enthusiasts out there. Even if you're not really into the whole "watch scene," chances are you've heard of these names at least once in your life.
The history of the brand is also something to consider when buying luxury watches. Most have created so much buzz in the industry that they've become household names in one way or another.
The quality of these timepieces is also well-known and trusted by many watch wearers all over the world.
However, because of their popularity, there are many counterfeits out there. Be sure that, if you're buying a luxury piece, you're buying from a trusted seller. Rolex, Omega, and Seiko watches are sold in trusted jewelry stores around the world.
The Durability
Last but not least, luxury watches are known for their superb durability. This is why watches remain a popular gift for every special occasion.
A luxury watch can be a timepiece that you'll pass down to your children and even their children as well! The materials used to create them are built to last multiple lifetimes, and the people who design and assemble them are masters of their craft. When you buy a luxury watch, you're not just buying it for yourself or for your loved one. It is an item that will be used for years and years to come.
Luxury watches come with a higher price tag, and for good reasons. They're also known for their exquisite designs and intricate details, which is what many people associate luxury watches to be most well-known for. However, there are other factors too that contribute to this brand being considered "luxuriously" priced — like the material used in making them, how long the company has been around (decades or centuries) or even just from its name recognition alone! Finally, while some may not consider a watch as a luxury watch if they're not made with gold or diamond, luxury watches are known for their durability and craftsmanship.
So, if you're looking to buy luxury watches, be sure to keep in mind these factors!