The Renaissance was a cultural movement that spanned the period roughly from the 14th to the 17th century, beginning in Italy in the Late Middle Ages and later spreading to the rest of Europe. Though availability of paper and the invention of metal movable type sped the dissemination of ideas from the later 15th century, the changes of the Renaissance were not uniformly experienced across Europe.
As a cultural movement, it encompassed innovative flowering of Latin and vernacular literatures, beginning with the 14th-century resurgence of learning based on classical sources, which contemporaries credited to Petrarch, the development of linear perspective and other techniques of rendering a more natural reality in painting, and gradual but widespread educational reform. In politics the Renaissance contributed the development of the conventions of diplomacy, and in science an increased reliance on observation.
Historians often argue this intellectual transformation was a bridge between the Middle Ages and the Modern era. Although the Renaissance saw revolutions in many intellectual pursuits, as well as social and political upheaval, it is perhaps best known for its artistic developments and the contributions of such polymaths as Leonardo da Vinci and Michelangelo, who inspired the term "Renaissance man".
There is a consensus that the Renaissance began in Florence, Italy, in the 14th century. Various theories have been proposed to account for its origins and characteristics, focusing on a variety of factors including the social and civic peculiarities of Florence at the time; its political structure; the patronage of its dominant family, the Medici; and the migration of Greek scholars and texts to Italy following the Fall of Constantinople at the hands of the Ottoman Turks.
We talked thoroughly about many renaissance artists in our masters of art series. Here is a list of the 16 great renaissance artists i personally like the most.
Now you might wonder, why instead of just making this list here, i made it on list.ly and then embed it here? Well for one you can embed it too if you so wish in your blog! Which would be cool, but most importantly, those artist are ordered by date of birth, so we can have fun together voting for our top renaissance artists, and ordering the list to become a top 16!
So with no further ado enjoy!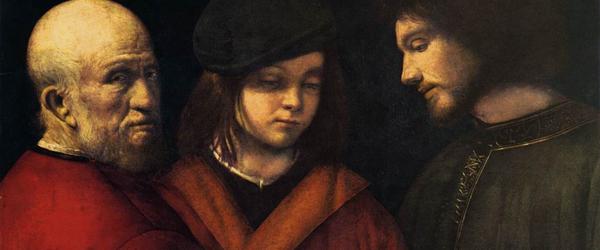 16 Great Renaissance Artists
Great Artists of the Renaissance
Source: http://makeyourideasart.com
Giovanni Bellini (c. 1430–1516) was an Italian Renaissance painter, probably the best known of the Bellini family of Venetian painters. He is considered to have revolutionized Venetian painting, moving it towards a more sensuous and colouristic style. Through the use of clear, slow-drying oil paints, Giovanni created deep, rich tints and detailed shadings. His sumptuous coloring and fluent, atmospheric landscapes had a great effect on the Venetian painting school, especially on his pupils Giorgione and Titian.

Antonio Allegri da Correggio (August 1489 – March 5, 1534), usually known as Correggio, was the foremost painter of the Parma school of the Italian Renaissance, who was responsible for some of the most vigorous and sensuous works of the 16th century. In his use of dynamic composition, illusionistic perspective and dramatic foreshortening, Correggio prefigured the Rococo art of the 18th century.

Tintoretto (September 29, 1518 – May 31, 1594), real name Jacopo Comin, was a Venetian painter and a notable exponent of the Renaissance school. For his phenomenal energy in painting he was termed Il Furioso. His work is characterized by its muscular figures, dramatic gestures and bold use of perspective in the Mannerist style, while maintaining color and light typical of the Venetian School.

Tiziano Vecelli or Tiziano Vecellio (c. 1488/1490[1] – 27 August 1576[2]) known in English as was an Italian painter, the most important member of the 16th-century Venetian school. He was born in Pieve di Cadore, near Belluno (in Veneto), in the Republic of Venice. During his lifetime he was often called da Cadore, taken from the place of his birth.

Rogier van der Weyden or Roger de la Pasture (1399 – 1464) was an Early Flemish painter. His surviving works consist mainly of religious triptychs, altarpieces and commissioned single and diptych portraits. Although his life was generally uneventful, he was highly successful and internationally famous in his lifetime. His paintings were exported – or taken – to Italy and Spain and he received commissions from, amongst others, Philip the Good, Netherlandish nobility and foreign princes.

Raffaello Sanzio da Urbino (1483 – 1520), better known simply as Raphael, was an Italian painter and architect of the High Renaissance. His work is admired for its clarity of form and ease of composition and for its visual achievement of the Neoplatonic ideal of human grandeur.

Pieter Bruegel the Elder [ c. 1525 – 9 September 1569) was a Flemish Renaissance painter and printmaker known for his landscapes and peasant scenes (so called genre painting). He is sometimes referred to as the "Peasant Bruegel" to distinguish him from other members of the Brueghel dynasty, but he is also the one generally meant when the context does not make clear which Brueghel is being referred to. From 1559 he dropped the 'h' from his name and signed his paintings as Bruegel.

Sandro Botticelli or Alessandro di Mariano di Vanni Filipepi (c. 1445 – May 17, 1510) was an Italian painter of the Early Renaissance. He belonged to the Florentine school under the patronage of Lorenzo de' Medici, a movement that Giorgio Vasari would characterize less than a hundred years later as a "golden age", a thought, suitably enough, he expressed at the head of his Vita of Botticelli.

Hieronymus Bosch born Jheronimus van Aken (c. 1450 – 9 August 1516), was a Dutch painter. His work is known for its use of fantastic imagery to illustrate moral and religious concepts and narratives.

Michelangelo di Lodovico Buonarroti Simoni (6 March 1475 – 18 February 1564), commonly known as Michelangelo , was an Italian Renaissance sculptor, painter, architect, poet, and engineer who exerted an unparalleled influence on the development of Western art.

Giorgione is known for the elusive poetic quality of his work, though only about six surviving paintings are acknowledged for certain to be his work. The resulting uncertainty about the identity and meaning of his art has made Giorgione one of the most mysterious figures in European painting.

Leonardo da Vinci born Leonardo di ser Piero da Vinci (April 15, 1452 – May 2, 1519) was an Italian Renaissance polymath: painter, sculptor, architect, musician, scientist, mathematician, engineer, inventor, anatomist, geologist, cartographer, botanist, and writer whose genius, perhaps more than that of any other figure, epitomized the Renaissance humanist ideal.

Luca Signorelli (c. 1445 – 16 October 1523) was an Italian Renaissance painter who was noted in particular for his ability as a draughtsman and his use of foreshortening. His massive frescoes of the Last Judgment (1499–1503) in Orvieto Cathedral are considered his masterpiece.

Jan van Eyck (or Johannes de Eyck)(c. 1395 – 1441) was a Flemish painter active in Bruges and is generally considered one of the most significant Northern European painters of the 15th century. The few surviving records indicate that he was born around 1390, most likely in Maaseik. Little is known of his early life, but his activities following his appointment to the court of Philip the Good c. 1425 are comparatively well documented.

Jacopo Carucci (May 24, 1494 – January 2, 1557), usually known as Jacopo da Pontormo, Jacopo Pontormo or simply Pontormo, was an Italian Mannerist painter and portraitist from the Florentine school. His work represents a profound stylistic shift from the calm perspectival regularity that characterized the art of the Florentine Renaissance. He is famous for his use of twining poses, coupled with ambiguous perspective; his figures often seem to float in an uncertain environment, unhampered by the forces of gravity.

Agnolo di Cosimo (November 17, 1503 – November 23, 1572), usually known as Il Bronzino, or Agnolo Bronzino (mistaken attempts also have been made in the past to assert his name was Agnolo Tori and even Angelo (Agnolo) Allori), was an Italian Mannerist painter from Florence. His sobriquet, Bronzino, in all probability refers to his relatively dark skin.
Articles' Images are in the public domain because their copyright has expired or are displayed here under the " fair use" copyright law, and are available through Wikipedia & Wikimedia.
This Articles' text is licensed under the Creative Commons BY-SA License since it partially uses material from Wikipedia.
Article publié pour la première fois le 21/10/2013