The Baroque is a period of artistic style that used exaggerated motion and clear, easily interpreted detail to produce drama, tension, exuberance, and grandeur in sculpture, painting, architecture, literature, dance and music. The style began around 1600 in Rome, Italy and spread to most of Europe.
The popularity and success of the Baroque style was encouraged by the Roman Catholic Church, which had decided at the time of the Council of Trent, in response to the Protestant Reformation, that the arts should communicate religious themes in direct and emotional involvement.  The aristocracy also saw the dramatic style of Baroque architecture and art as a means of impressing visitors and expressing triumphant power and control. Baroque palaces are built around an entrance of courts, grand staircases and reception rooms of sequentially increasing opulence.
According to the Oxford English Dictionary, the word baroque is derived from the Portuguese word "barroco", Spanish "barroco", or French "baroque", all of which refer to a "rough or imperfect pearl", though whether it entered those languages via Latin, Arabic, or some other source is uncertain.
A defining statement of what Baroque signifies in painting is provided by the series of paintings executed by Peter Paul Rubens for Marie de Medici at the Luxembourg Palace in Paris (now at the Louvre), in which a Catholic painter satisfied a Catholic patron: Baroque-era conceptions of monarchy, iconography, handling of paint, and compositions as well as the depiction of space and movement.
Baroque style featured "exaggerated lighting, intense emotions, release from restraint, and even a kind of artistic sensationalism". Baroque art did not really depict the life style of the people at that time; however, "closely tied to the Counter-Reformation, this style melodramatically reaffirmed the emotional depths of the Catholic faith and glorified both church and monarchy" of their power and influence.
There were highly diverse strands of Italian baroque painting, from Caravaggio to Cortona; both approaching emotive dynamism with different styles. Another frequently cited work of Baroque art is Bernini's Saint Theresa in Ecstasy for the Cornaro chapel in Saint Maria della Vittoria, which brings together architecture, sculpture, and theatre into one grand conceit.
The later Baroque style gradually gave way to a more decorative Rococo.
A rather different art developed out of northern realist traditions in 17th century Dutch Golden Age painting, which had very little religious art, and little history painting, instead playing a crucial part in developing secular genres such as still life, genre paintings of everyday scenes, and landscape painting. While the Baroque nature of Rembrandt's art is clear, the label is less often used for Vermeer and many other Dutch artists. Flemish Baroque painting shared a part in this trend, while also continuing to produce the traditional categories.
We talked thoroughly about many baroque artists in our masters of art series.  Here is a list of the 16 great baroque artists I personally like the most!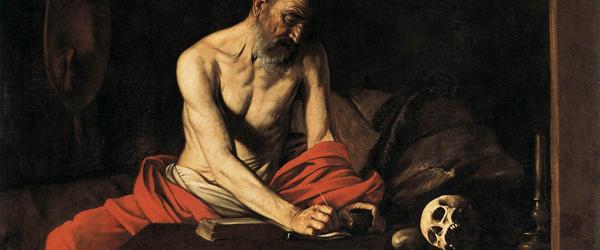 16 Great Baroque Artists
A list with great baroque painters!
Source: http://makeyourideasart.com
El Greco born Doménikos Theotokópoulos, (1541 – 7 April 1614) was a painter, sculptor and architect of the Spanish Renaissance. "El Greco" (The Greek) was a nickname, a reference to his ethnic Greek origin, and the artist normally signed his paintings with his full birth name in Greek letters, Δομήνικος Θεοτοκόπουλος (Doménikos Theotokópoulos), often adding the word Κρής (Krēs, "Cretan").

Annibale Carracci ( November 3, 1560 – July 15, 1609) was an Italian Baroque painter. Annibale Carracci was born in Bologna, and in all likelihood first apprenticed within his family. In 1582, Annibale, his brother Agostino, and his cousin Ludovico Carracci opened a painters' studio, initially called by some the Academy of the Desiderosi (desirous of fame and learning) and subsequently the Incamminati (progressives; literally "of those opening a new way").

Michelangelo Merisi da Caravaggio (29 September 1571 – 18 July 1610) was an Italian artist active in Rome, Naples, Malta, and Sicily between 1593 and 1610. His paintings, which combine a realistic observation of the human state, both physical and emotional, with a dramatic use of lighting, had a formative influence on the Baroque school of painting.

Sir Peter Paul Rubens (28 June 1577 – 30 May 1640), was a Flemish Baroque painter, and a proponent of an extravagant Baroque style that emphasised movement, colour, and sensuality. He is well-known for his Counter-Reformation altarpieces, portraits, landscapes, and history paintings of mythological and allegorical subjects.

Frans Hals the Elder (c. 1580 – 26 August 1666) was a Dutch Golden Age painter. He is notable for his loose painterly brushwork, and helped introduce this lively style of painting into Dutch art. Hals was also instrumental in the evolution of 17th century group portraiture.

Georges de La Tour (March 13, 1593 – January 30, 1652) was a French Baroque painter, who spent most of his working life in the Duchy of Lorraine, which was temporarily absorbed into France between 1641 and 1648. He painted mostly religious chiaroscuro scenes lit by candlelight.

Artemisia Gentileschi (July 8, 1593–1652) was an Italian Baroque painter, today considered one of the most accomplished painters in the generation after Caravaggio. In an era when women painters were not easily accepted by the artistic community or patrons, she was the first female painter to become a member of the Accademia di Arte del Disegno in Florence.

Nicolas Poussin (15 June 1594 – 19 November 1665) was a French painter in the classical style. His work predominantly features clarity, logic, and order, and favors line over color. His work serves as an alternative to the dominant Baroque style of the 17th century. Until the 20th century he remained the major inspiration for such classically oriented artists as Jacques-Louis David, Jean-Auguste-Dominique Ingres and Paul Cézanne.

Orazio Lomi Gentileschi (1563–1639) was an Italian Baroque painter, one of more important painters influenced by Caravaggio (the so-called Caravaggisti). He was the father of the painter Artemisia Gentileschi.

Domenico Zampieri (or Domenichino; October 21, 1581 – April 6, 1641) was an Italian Baroque painter of the Bolognese School, or Carracci School, of painters.

Giovanni Lanfranco (26 January 1582 – 30 November 1647) was an Italian painter of the Baroque period.

Giovanni Francesco Barbieri (February 8, 1591 – December 22, 1666), best known as Guercino or Il Guercino, was an Italian Baroque painter and draftsman from the region of Emilia, and active in Rome and Bologna. The vigorous naturalism of his early manner is in contrast to the classical equilibrium of his later works. His many drawings are noted for their luminosity and lively style.

Jusepe de Ribera, probably an italianization of Josep de Ribera (January 12, 1591 – September 2, 1652) was a Spanish Tenebrist painter and printmaker, also known as José de Ribera in Spanish and as Giuseppe Ribera in Italian.

Diego Rodríguez de Silva y Velázquez (June 6, 1599 – August 6, 1660) was a Spanish painter who was the leading artist in the court of King Philip IV. He was an individualistic artist of the contemporary Baroque period, important as a portrait artist

Rembrandt Harmenszoon van Rijn (15 July 1606 – 4 October 1669) was a Dutch painter and etcher. He is generally considered one of the greatest painters and printmakers in European art history and the most important in Dutch history.

Johannes Vermeer (1632 – December 1675) was a Dutch painter who specialized in domestic interior scenes of middle class life. Vermeer was a moderately successful provincial genre painter in his lifetime. He seems never to have been particularly wealthy, leaving his wife and children in debt at his death, perhaps because he produced relatively few paintings.
Feel free to vote for your favourite artists and also add any baroque artists you feel should be there but are not! In the meantime you might want to check out our article about the 16 great painters of renaissance!
Articles' Images are in the public domain because their copyright has expired or are displayed here under the " fair use" copyright law, and are available through Wikipedia & Wikimedia.
This Articles' text is licensed under the Creative Commons BY-SA License since it partially uses material from Wikipedia.